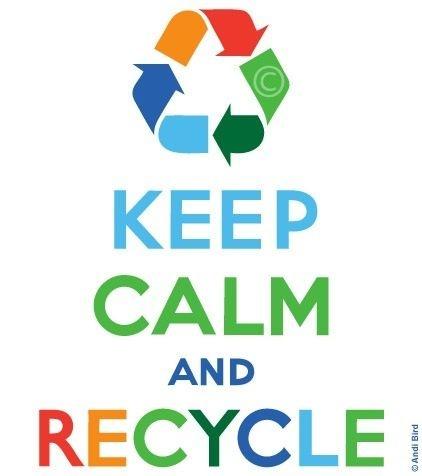 I believe that recycling is important. I try to do my bit. I have a compost bin, our council collects paper, plastic bottles and cans from the house. Glass can be deposited in bins quite close by and there are collection points not too far away where I can deposit various other things such as batteries.
As I've got older I've become more conscious of the fact that we are becoming a very disposable society. Things don't seem to last the same way either.
Consequently I'm glad of recycling websites for passing on furniture, homeware and all sorts of strange things. I've got rid of quite a few things that we've no longer needed this way. We once got rid of a cabin bed (a high bed with desk and wardrobe underneath) including the mattress to a guy who collected the whole thing in a VW Golf. He crammed as much as he could inside and the mattress and other pieces were just piled on the roof, secured with bungee straps. I was relieved to learn he got home safely!
Oops I'm waffling.
Right now I have a double bed to give away. I posted it on a website recently and a young Mum responded. We arranged a pick up time which had to be rearranged as she had no-one to look after her disabled son. On the second day I got a message to say she was running late. Then nothing!
No contact whatsoever. She just didn't turn up.
Now I know that an emergency could have happened but surely after the event a message could have been sent to explain her no show. Although of course as has been pointed out to me she could just have changed her mind or decided it was just too much bother to collect. But why not just tell me?
Everyone has the right to change their mind. "Sorry I've decided I don't want the bed that you are kindly giving away for free anymore. Hope I haven't inconvenienced you." Or just "changed my mind. Not coming now." would have been sufficient.
But nothing? Really? How rude! Especially in this age of technology when it's so easy to send a message.
And now I find myself in the same situation again. I relisted the bed and had several enquiries. I had arranged with someone for them to collect the bed this evening after 6.30pm. It's now gone 9.30 pm so I don't think they are coming.
Once again I'm back to square one although I do have other people interested. Hopefully one of them will actually turn up.
Rant over.